Keep your day job
And go out in public (sometimes)
The only thing better than writing is not writing. And the only thing better than appearing in public is not appearing in public. These are just facts.
I will be shifting from writing/not going out in public to not writing/going out in public over the next two weeks. Almost a year after my book tour I remain skeptical of that side of the equation.
I've been on a burnout of a writing schedule since I set my New Year's resolutions. My goal for this year has been to write every day as I simultaneously develop a non-fiction book proposal, a novel, and a TV pilot. Without a doubt, that's a lot of shit, especially since I'm writing them all for free (for now.) But I'm excited by the challenges each presents and this multi-track process dovetails well with how my brain works best.
My first big deadline was yesterday. I applied for a residency I have exactly zero expectations of getting. I just needed a real deadline. Everyone needs a deadline. It allowed me to shift my focus from twirly-dirly writing with my head in the clouds to getting down to editing and sharpening. It gave me an excuse to send both manuscripts in progress to my agent and ask, "Are either (or both) of these worth developing further?" And it gave me a reason to drive myself hard and then take a break ffs.
So today I'm soaking in that break. I woke up early, at 6 a.m., probably because my brain was like "Hold up, we're not writing today? LET'S GET THIS SHIT STARTED."
But what I will be doing this weekend is working on project estimates. I've mentioned many times before that most of this writing that seems fun, that everyone thinks means I "have it made"(LOL), that is public and gets traction, all adds up to small dollars in my bank account. I know. It's a scam. It's no bribery-ring-to-get-you-into-Yale-although-you're-already-rich-and-your-parents-care-more-about-their-rep-than-you-learning-how-to-be-a-functioning-non-asshole but it's a scam nonetheless. So alllllll this writing I write about is "extra" until it starts paying me hella more and becomes The Only Thing I Do.
Until then, I continue to be a copywriter and creative director. I love my job. That isn't to say it doesn't get tedious, that I don't do a lot of work that never sees the light of day, that I don't get considered for lots of projects because I'm not 25 / a mom / I live in Vermont or I won't work onsite for a month at a time. All those things are true. But every once in a while a project comes along that makes you feel lucky. You made the right connection at the right time. The right idea popped into your brain just when you needed it. And against all odds, the thing got made. If you don't work in advertising or design you cannot imagine how difficult it is to actually produce good work. Work that isn't stupid, lowest common denominator, tone deaf, dumb-as-shit, or just plain lame. Every day there are too many cooks in the kitchen. Every. Damn. Day. And some of those cooks are all, "Well I showed this to my wife and she doesn't like it so start over."
Uuuuugggghhhhhhhhhhhhhhhhhhhhhhhhh.
But once in a while you get a gift. You get a project from a woman-founded agency. You are on video calls with all women who are also mothers so none of you has to lie about why you can't do a call at another time. Because you have kids and you have to take them here or there. Is this how men get to do their jobs all the time? Just operate from a base level of mutual understanding instead of constantly thinking of new ways to lie? Seems fucking amazing.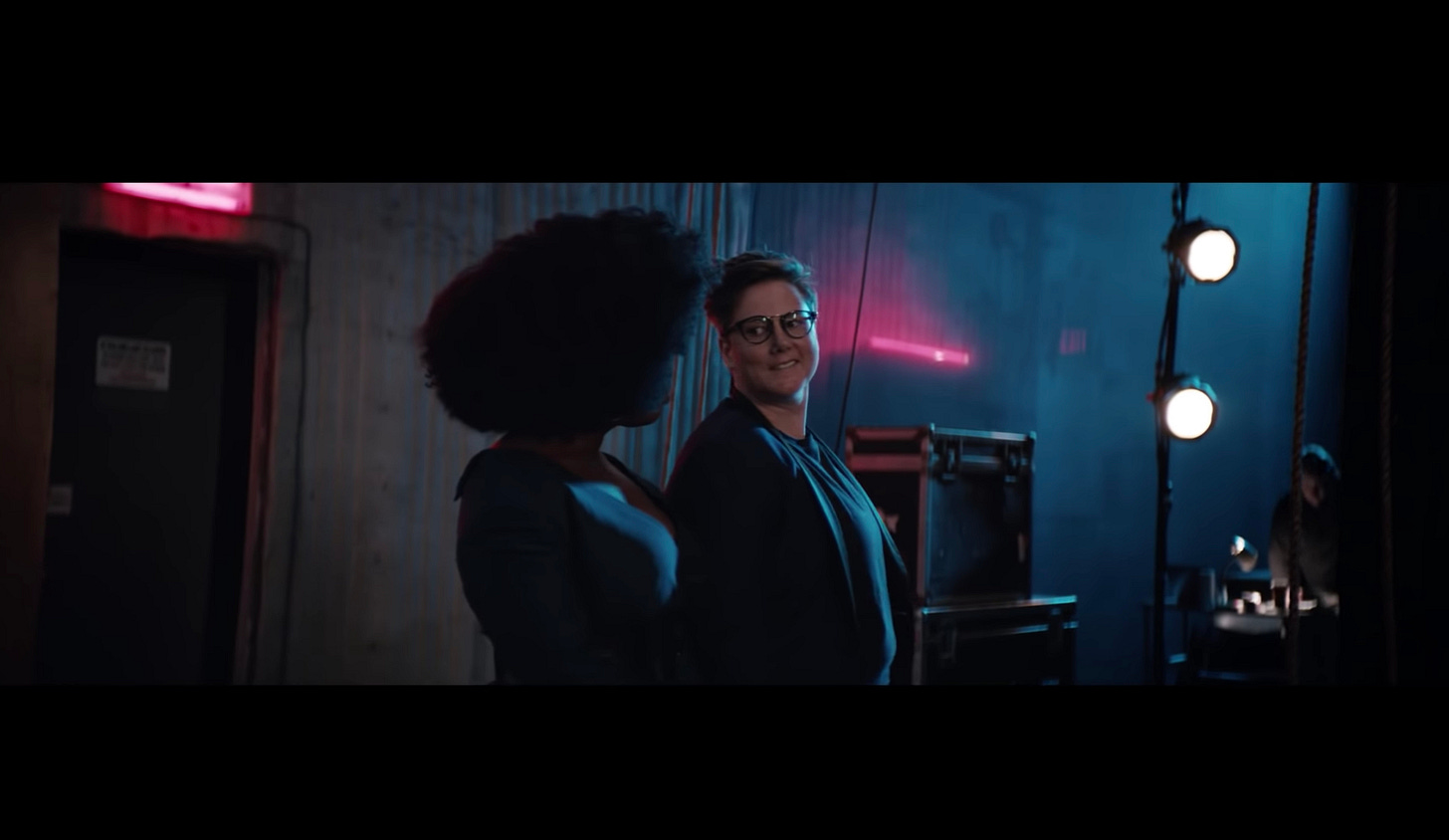 This long-ass preamble all leads to this—I worked on the concept and script for this new Netflix spot and I am busting with pride over it. I am thrilled it got made. I am thrilled who it got made with, from Mira Kaddoura to the entire agency (Red & Co.) to the client to the talent. I am thrilled at the message, I can't believe this spot made it out into the world. The younger just-starting-out me wouldn't believe it. The older me is proud as hell to have had anything to do with it.
Read more about it here and here.
And the other thing I'm doing this weekend is prepping for a lot of upcoming appearances. I'll be at The Satire & Humor Festival in NYC and Philosophy Week here in Vermont. I'm excited (and SLOWLY FILLING WITH PANIC) every time I think about standing or sitting in front of people again. It's been almost a year since my book tour and I can tell you that being a quasi shut-in is much easier. But I miss humanity. I miss a small slice of humanity. Are you in that slice? I think you are. See you soon?
---
NEW FROM ME:
• EVENTS! EVENTS! EVENTS! I'm doing a bunch of events over the next two weeks! Every bit of info and links to tickets are below. Whoop!
March 23—SATIRE & HUMOR FESTIVAL, Caveat, NYC
7-8:30 p.m.
Reading: A Supersized Evening Of Humorous Readings
Humorists reading humor! Featuring Karen Chee, River Clegg, Colin Nissan, Riane Konc, Evan Waite, Jen Spyra, Sarah Cooper, Seth Reiss, Chrissy Shackelford, and someone with my same name. Buy your ticket here.
March 24—SATIRE & HUMOR FESTIVAL, Magnet Theater, NYC
10 a.m.-noon
Workshop: "Let's Get Specific, Weird, and Tight" (SOLD OUT)
For workshop description and to be waitlisted go here.
March 24—SATIRE & HUMOR FESTIVAL, Magnet Theater, NYC
1-2:30 p.m.
Panel: Writing, Selling, and Promoting the Humor Book
Hear from writers, agents, booksellers, and marketers as we discuss the process from the initial idea (or viral piece!) to the writing process to getting the book into the hands of readers. Buy your ticket here.
March 29—PHILOSOPHY WEEK, Maglianero, Burlington VT
7-8:30 p.m.
Discussion: Kimberly Harrington and Amanda Gustafson (Swale)
"NO COUNTRY FOR OLD WOMEN: Daring to maintain a creative practice even though you're a lady, a mother, and getting older by the minute"
7-8 Discussion
8-8:30 Q&A
Do not bring your kids
Do bring money to get yourself a cocktail
THINGS FROM ELSEWHERE:
• MEMOIR: I was struck by the recent cross-the-board negative reviews in The New York Times for three memoirs by women. Looks like I wasn't the only one: "On the Value of Women's Memoir: A Response to Alexandra Fuller's 'The Examined Life May Be More Worth Living. Reading About It Is Another Matter.'" An excerpt: "Contrary to what Fuller says, nonfiction, and especially memoir, does not have to 'be inspiring' or 'reach beyond itself' to any great or meaningful extent. In fact, many wildly successful books don't—think heavy hitters like David Sedaris and Karl Ove Knausgaard, the latter of whom has written not one but ten plodding autobiographical novels to warm commercial reception. Both of these writers tackle almost exclusively personal subjects, detailing the minutiae of their lives in a way that might be labeled 'confessional' if they were women."
• EDITING: The new book Dreyer's English is delightful and this will give you a peek into why: "'Close' Proximity, 'End' Result, and More Redundant Words to Delete From Your Writing"
• DAY JOBS: "Private investigator. Subway conductor. Building superintendent. In Medium's Day Job series, 12 accomplished authors discuss the years of the income-producing work they did to support their writing. From slicing soap in a luxury bath store to directing air strikes in Afghanistan, these authors discuss not only the jobs themselves, but also the ways they protected their time and creativity from the demands of their full-time careers (and still do!)" Find this great collection here.
• PROFILE: Talk about day jobs, if you missed this profile in The New York Times it's something else. "Her opponents have taken notice. 'She kind of scares me,' said Jonathan Ornstein, the chief executive of Mesa Airlines. In a congressional hearing in 2017 as the two sides were preparing for contract negotiations, Ms. Nelson called Mr. Ornstein's airline a 'bottom feeder' in terms of wages. 'I read that, and I'm like, 'Oh man, that's old school.'" Read it here: "The Shutdown Made Sara Nelson Into America's Most Powerful Flight Attendant."
• HUMOR: Not sure how I missed this one but whew, so good. "Woman Facts" on McSweeney's.
• NATURE BREAK: When I worked at Wieden+Kennedy 100 years ago, I spent a lot of time hanging out in the print production department in the old Dekum building, down the hall from Dan Wieden's office. One afternoon Dan was hanging around too and for some reason we got to talking about the nature segments on CBS Sunday Morning, a show I watched and loved since I was a kid. I'll always remember him saying something along the lines of, "Those fucking nature segments! Not a goddamn thing happening. I love it!" with a smile on his face the whole time. I always think of Dan whenever I catch one of those videos and especially when I saw this: "Capturing the 'Sunday Morning' Moments of Nature"
---
Like what you're reading? Subscribe, share, forward it to your hard working friends.
You can find my copywriting work here and my writing-writing work here.
You can find me on Twitter.
You can find me on Instagram.
Please do not find me in real life. I'm real busy NOT WRITING.