Never say never
Sometimes never comes sooner than you think
Things I have said in my life:
1) "I will never move back to New England from the West Coast"
2) "I will never give up on thinking a bikini might look good on me one day if I just try very, very hard"
3) "I will never write another book like Amateur Hour"
That last one? I said never because 1) Honestly I didn't think I'd ever be asked / allowed to write another book! and 2) Amateur Hour was a tough book to write. I've spoken a lot about the reasons and if you want to know them you can email me. I need to stop boring people with tales of the timeline and the summer lost and the crying and the typing. All this to say that when I was on my book tour and someone would ask me during the Q&A when I'd be following up Amateur Hour with an Amateur Hour-like book I always answered "HAHAHAHA literally never! I'm never doing that again!" and I meant that shit.
Well here are some updates on how "never" has worked out for me:
1) I moved from Oregon to Vermont … 15 years ago
2) LOL bikini!
3) SEE BELOW:
I am excited about this book. I am excited to write it. I'm even more excited to have a whole entire year to work on it! I know people get nervous about the topic of marriage and divorce or feel obligated to message me and say something along the lines of I'M SO SORRY ABOUT YOUR MARRIAGE :( :( :( YOU ARE PROBABLY DEVASTATED
Please don't do this. To me, to anyone. You make so many assumptions when you say things like this. I have done this too, so I know it's a natural knee jerk reaction. But as the jerk on the other side of the knee now, I beg you to pause and stop before you react this way. Want to know more? READ THE BOOK. Just kidding, I have no idea what 85% of this book will be about.
What I do know: This will be a book that will examine marriage and divorce conceptually, through humor, essays, culture, assumptions, media, my life, my relationships, and probably how my hips are to blame for all of it (esp the bikini part). I've started reading through my journals from high school and college so, you know, brace yourself. Things could get weird. Or stupid. This will not be a book about blame or finger pointing. I like my ex-husband so much he is actually still (technically/legally) my husband and we still live together. I don't think this book will be a downer. I don't want it to be a downer! This is not a book I plan to cry my way through. Well, maybe a little. I think it will be different and weird, I think it can be funny and unexpected. I hope people who are struggling with their marriage or their assumptions of what they're supposed to want from life will read it and think, "Okay well, at least I'm not the only loon thinking about this." And I hope when you're done reading it you will close the book, look off to the horizon, and whisper to yourself, "Well, that was not … terrible."
I was just looking through my photos from the SUMMER OF AMATEUR HOUR '17 and every photo is of my laptop and a coffee or a glass of wine or my poor neglected dog begging to go for a walk and can I just say I am triggered? I'm grateful to have the space and time to work this book through, while also walking my dog, and spending time with my kids, and co-parenting and possibly camping with my future ex-husband. It feels positively luxurious to be able to roll ideas and thoughts around at this early stage instead of feeling panic from my eyeballs down to my pinky toes like last time. I'm excited to be able to think, to have space, to structure it and balance it. I can't believe I'm lucky enough to get to do this whole thing again. I promise to do my absolute best to not fuck it up.
There is no preorder information yet, it's entirely too early for me to start shoving that stuff down your throats, but I hope you will be interested enough in this process to hear occasional updates.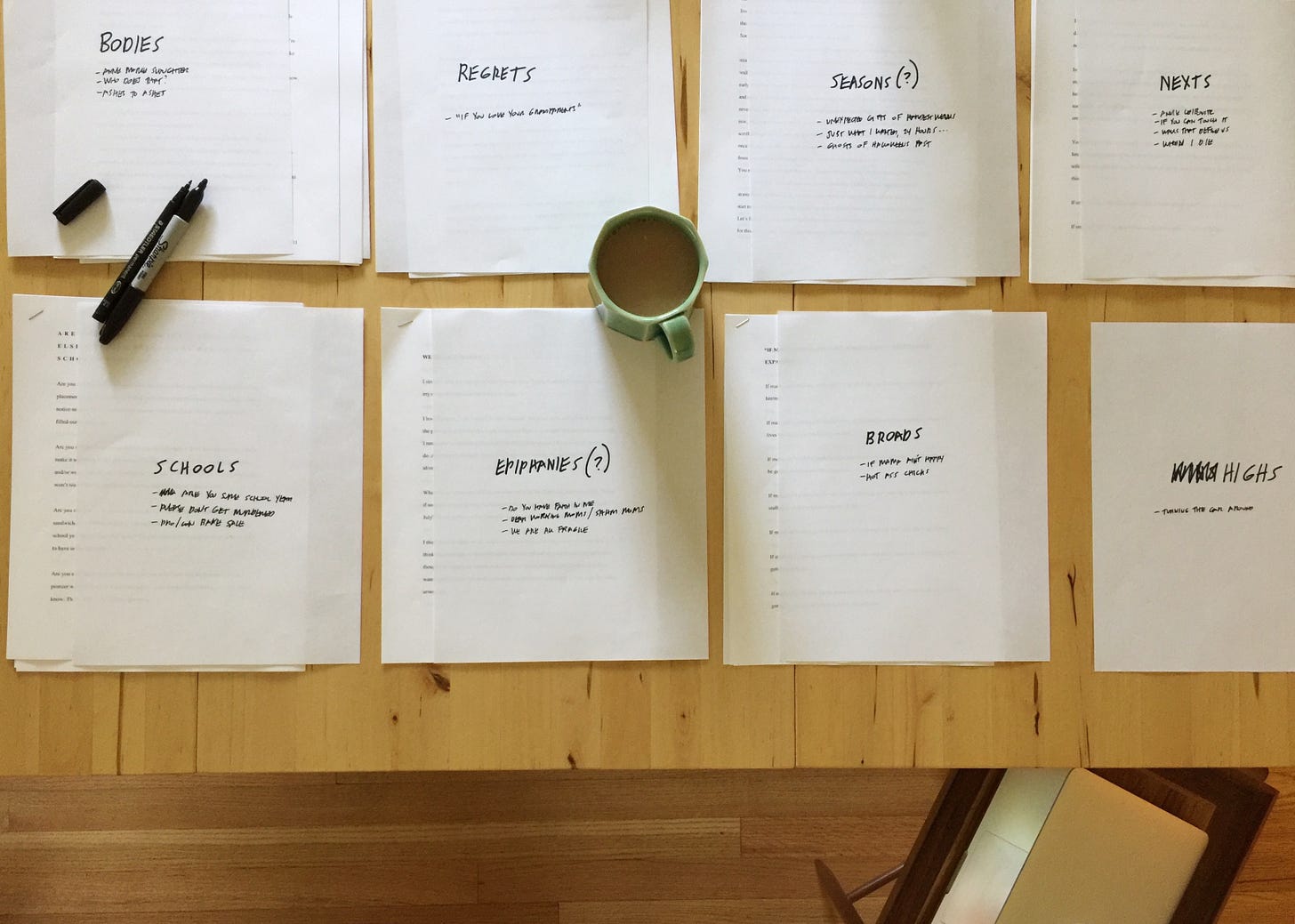 A week after my first book deal was announced in June 2017, we headed to Maine for vacation. We decided to hold off on the celebration until then and brought along a little bottle of sparkling wine given to me by an excellent friend. We poured a tiny sip for my kids (at the time, 11 and 13, very European!) and much bigger sips for my husband and I. My son announced that, as we must be aware, it was against the law for him to drink alcohol and he refused his glass. My daughter gulped hers, tasted it for a nanosecond, then spit it all into the beach roses. We're not going to Maine until the end of the summer this year but you can bet I'll be trying this again, just to see what happens. Lives change, kids grow, but the law's the law, man.
Happy summer, everyone! I'll be stepping back from this newsletter just a bit this summer so I can soak it all in too. I hope you have the best summer ever with only minimal feelings of murder towards Instagram. (Ahem, related.)
---
NEW FROM ME:
Due to a quirk in timing just about every piece I've been working on over the past 6 months all pubbed within just a few weeks. Right now I don't have a single thing out on submission or forthcoming, not even a book proposal! Whoop! FEELS LIKE (temporary) FREEDOM! Anyway, here are all my latest pieces from the past month:
• THE NEW YORKER (humor): "Answers to 'Is Your Dog Friendly?' Applied to Me"
• McSWEENEY'S (humor): "Fast Times at Alabama High"
• THE CUT (humor): "How To Be the Best Mom"
• LITHUB (humor): "Is this my first book tour or my own funeral?"
• THE BELLADONNA (humor): "We heard you. And decided to do something else instead."
• AIRBNB MAGAZINE (humor): "Road Tripping With Teenagers: A Survival Guide"
• PRIMA MAGAZINE (personal essay): "You Never Think You'll Turn 50"
• OVER 30 UNDER 30 (interview): Talking work, life lessons, and ageism in the ad industry right here —-> "The Writer"
THINGS FROM ELSEWHERE:
• IDEAS: Aside from lifting her notecards idea for organizing my book (In fact, I was at Staples yesterday buying my multicolor index cards and my dork excitement levels were OFF THE CHARTS), this brief interview is something else. "There's a story where we were on vacation and I was being a jerk and complaining about things. And he said to me, 'Looking at you is like looking into a dirty mirror.' I remember that stinging in the moment, and stinging when I was writing it. It shows that he wanted me to be a mirror image of himself, but was disturbed when it actually looked like him." "Erin Lee Carr on Father-Daughter Joys and Struggles" in The New York Times
• HOW LONG WILL IT TAKE TO READ THAT BOOK? Yes, really. (FWIW Amateur Hour comes in at 4 hours and 16 minutes)
• UGLY SCREENSHOTS: As far as I can tell publishing is an industry where time moves in reverse, deals are considered binding just based on a verbal a-okay, and people probably still slap each other across the face with thin leather gloves when offended. So it would make sense that the screen shot everyone shares to announce their book deal (ahem) is a throwback to the beep-boop-beeeeeeeeeep-wong-wong-wong sounds of a dialup connection: "Here's Why Authors All Tweet An Ugly Screenshot From The Same Websites" from Buzzfeed
• NOSTALGIA: I was an absolute whore for George magazine back in the day and reading this piece brought it all back (plus: the heyday of print magazines! *sobs*): "The Inside Story of John F. Kennedy Jr.'s George Magazine"
• HUMOR: I mean, these are the first two lines: "Some say that being an artist and being a parent are incompatible. They are correct." So good. "An Artist's Guide to Raising Children" by Marco Kaye in The New Yorker.
• DREW MAGARY: You know Drew Magary even if you don't. He wrote these. Back in December there was an alarming post from Deadspin about him being injured but providing no details. It's weird to be worried about someone you've never met, someone who only exists via your wifi connection. Here's the incredible story of what happened to him. The fact that he can write this himself, in his same voice, still so fucking funny, is astonishing.
• HUMOR: This Twitter thread on childhood and bodies of water is, without exception, the funniest way to kick off your summer. I feel personally attacked by the reservoir one.
---
Like what you're reading? Subscribe, share, forward it to your friends who are ready to summer so hard.
You can find my copywriting work here and my writing-writing work here.
You can find me on Twitter.
You can find me on Instagram.
Please do not find me in real life. I am busy writing another book I definitely said "never" to.